You decide! Which business email address, below, gives a more professional and credible impression?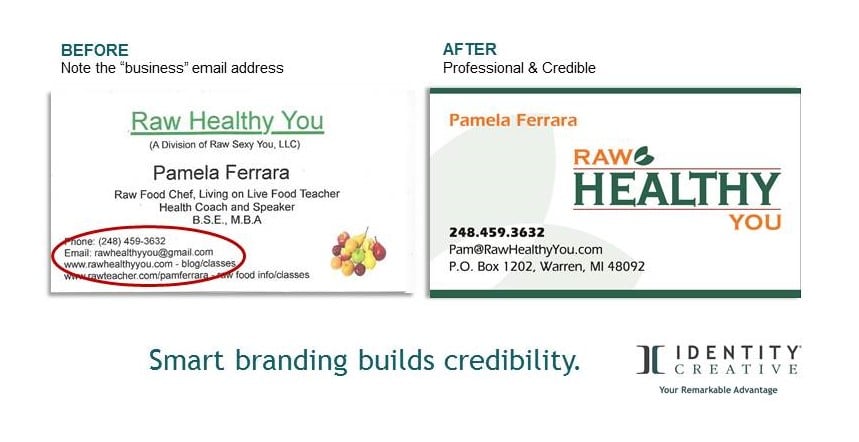 You've seen business cards with email addresses like "mybusiness@gmail.com." At Identity Creative, we won't design or print anything with a gmail, yahoo, or any-thing-other-than-your-own-custom-URL email address. Sound harsh? Friends who care will tell you the truth. We want you to stand out as a credible business and we'll tell you the harsh reality because it matters.
Marty Neumeier, in The Brand Gap, makes it clear, "Trust is the greatest shortcut to a buying decision, and the bedrock of modern branding."
Your business card is an opportunity to build trust with a credible brand presentation. We meet solo-preneurs and start-up owners who don't recognize the damage they're doing to their credibility with the impression a generic business email creates.
Why let this happen, when it's SO EASY to purchase a custom domain name and set up an email for your business.  Here it is in five steps:
1. Choose a hosting company. We use Hostgator because in all the years we've hosted with them, their customer service reps have proven to be knowledgeable, patient, and NOT condescending.
2. Purchase a hosting package. For most small businesses and start-ups, their "Hatchling" plan is more than sufficient.
3. Select a domain name, (if you already have one, you'll just need to direct it to your new Hostgator account. If you have a question about this, comment below. You can search and purchase a domain at any registrar, like dotster.com, or right on Hostgator.
4. Follow their easy video tutorial to set up your email account.
5. One more step will configure the email to the provider you use, Gmail, Apple, Microsoft, etc.
It's that easy. Now, let's get back to business!