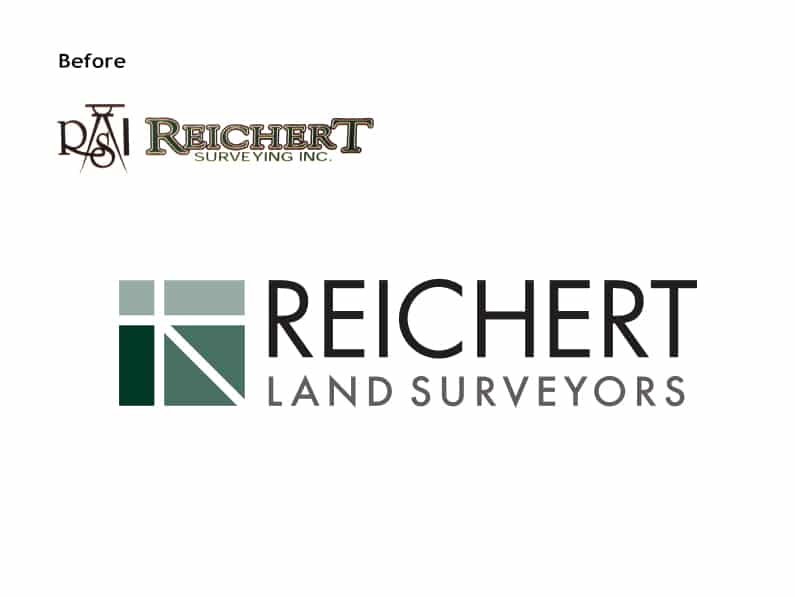 A new generation coming up in the family business often signals change. George Reichert founded Reichert Surveying, Inc. in 1986, when all a company needed to get noticed was a decent-sized Yellow Pages ad. Brad Reichert, George's son, joined the business and has been keeping the company on its technological-toes by continually adding equipment and skills that the industry demands.
Brad also was able to look at the company's logo with fresh eyes and convinced the team that Reichert Surveying was due for an updated brand identity.
"Many of our re-branding clients are due to second generation transitions or new marketing directors coming on board. Founders don't 'see' that their logo is communicating a dated look. It's something they are accustomed to because it has been that way from the beginning," explains Bill Kleist, owner at Identity Creative.
Getting a Focus for this Brand Identity Make-Over
The design process sought to present the company's brand promise of uncompromising state-of-the-art accuracy and personal service to bring total building confidence. The family also has a preference for the style of Frank Lloyd Wright, who pioneered a bold approach to architecture in the first decade of the twentieth century.
The design the Reicherts selected during the concept phase, with a representational aerial view of land parcels, captures their mission for continuous emphasis on accuracy. The style gives a nod to F. L. Wright, embracing new approaches through advances in technology. Additionally, the subtle "R" for Reichert carries their solid reputation and the commitment they have always had to building relationships and personal service.
Reichert Surveying, Inc. invests in current technology and skills to deliver accuracy with personal service.
Ever increasing demand for high-tech and professional land surveyors, Reichert Surveying has been a valued resource to property owners, builders and municipalities in the Metro Detroit Area, Lower Michigan and the Upper Peninsula since 1986.
Both father & son, George and Brad are graduates of Ferris State, BS in Engineering. As a boy, Brad assisted his dad in the field, enjoying the outdoors, meeting the many people who knew George as a local trusted surveyor. Today, , George and Brad Reichert, along with their growing team, finds that the most rewarding part of their work is helping people find resolution to boundary disputes and providing expert consulting that brings a design concept to a beautiful reality.
Reichert Surveying is a team of experts who are committed to the integrity established the heritage of their industry while integrating new technologies to provide professional land surveying services.
Continuous training
Progressive skill
High-tech equipment
Location availability
Work within time-frames
Personable, friendly, knowledgeable
Excellent reputation in the industry
To learn more about Reichert Surveying, Inc., click here!