WaitWell - An Encore Entrepreneur Story
Retired, but not Tired.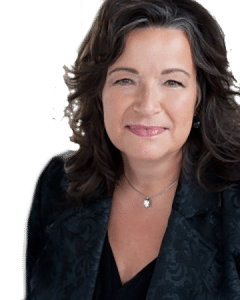 There is an identified trend among retiring Baby Boomers as many find themselves in or facing retirement through the sale of a company, involuntary "early retirement," or the traditional "it's-time-to-retire."
The Small Business Administration calls these startups "Encore Entrepreneurs," and they are likely to further increase revenue for other types of businesses.
They have gained experience and confidence during their career and now find that they have the time and capital to fulfill a dream and "make a difference," so they take the risk to launch a business. These individuals are serious about their investment in a new venture. Many, with corporate backgrounds, understand the power of a credible and professional look and  Identity Creative helps Encore Entrepreneurs build a credible brand presence. Here's the story of one of those courageous dreamers, Karen DeCuir DeNicola, and her start-up, WaitWell,
The genesis of WaitWell is the result of Karen's own journey through the health care maze, combined with her executive leadership experience. Her passion to help medical professionals better serve their patients has fueled the uphill challenge to invest in research, launch a business, produce educational material and inform medical care professionals and the general public through public speaking.
Karen has a revolutionary concept that will transform the waiting room experience from mundane to memorable and stressful to healing. She hired Identity Creative to create a new name, develop the brand identity & key message and implement it into every visual aspect of her business. Additionally, logos were created for the unique services offered by WaitWell, and a product launch, Healing Elements, to develop a cohesive brand architecture that helps prospects and customers quickly understand the benefits and opportunities available to them. (To see this unique offering, Healing Elements, click "Brand Extensions" below.) Meet Karen, featured on WXYZ Channel 7.
Launching a new venture is not for the faint of heart. Entrepreneurs like Karen trust professionals to get it right. If you want the remarkable advantage that the perfect impression gives you, contact us today. We'd love to talk about your dream.
Start-up Launches with Brand Credibility that Opens Doors
Getting it Right
Karen DeCuir D. DiNicola was starting a company and struggling to find branding & design talent. She had worked for years with large companies implementing organizational change and had always had a team of professional designers within those organizations to rely on. Karen, like many start-ups, was self-funded, so finding "inexpensive" design talent was important to her at the outset. After time spent and quality she knew was lacking, she was frustrated with the results. Karen decided to make the investment in working with a professional design & brand development team and brought in Identity. Karen was an insightful client and a joy to work with as she intuitively understood the value of branding. By working through a well-defined Brand Profile, we were able to help outline her vision for product & service offerings. Together, we built a brand architecture that would help her audience quickly understand the benefits WaitWellTM can provide.
Naming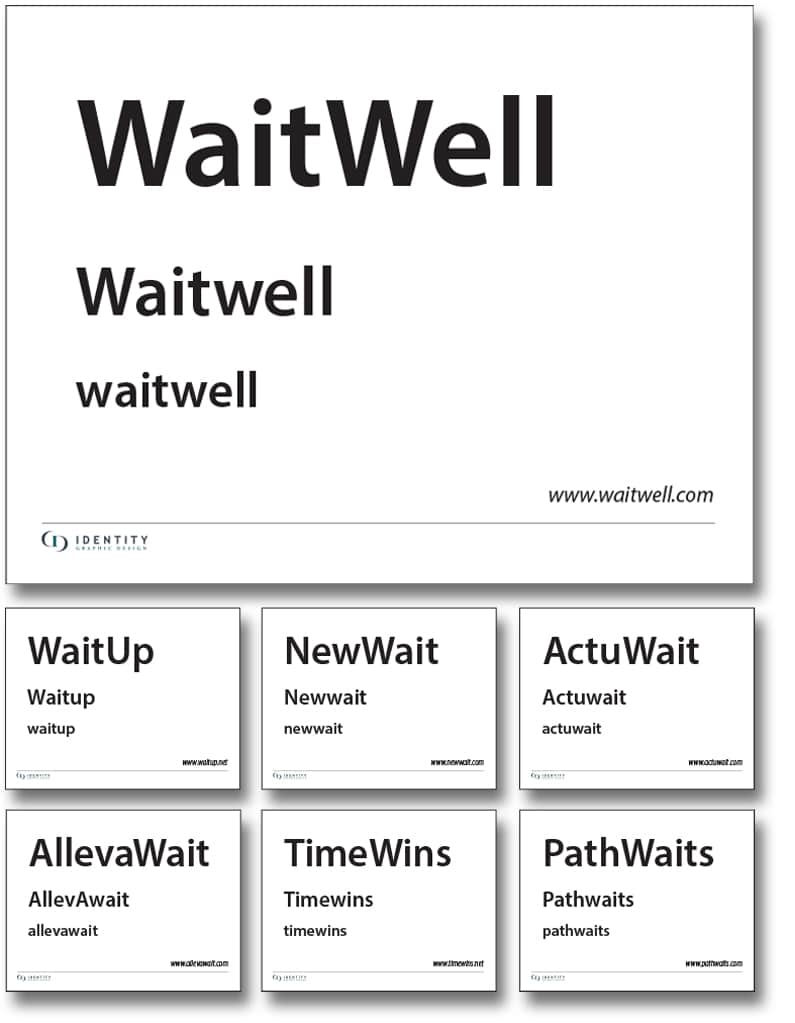 KD3 Worx as a company name did not help people understand what they do, it actually distracted from the impactful and positive change that WaitWellTM facilitates.
"Combining the information garnered from the Brand Profile and ongoing collaboration, the Identity team helped to tease out the perfect company name. The name explained everything about the business in two words, vs. the several minute explanations required in the past." – Karen D. DeCuir DiNicola, Owner
Once the foundation of Karen's company was identified in the brand discovery process, we were ready to embark on a naming journey to brainstorm a plethora of options, available URLs and work with her team to select the perfect name.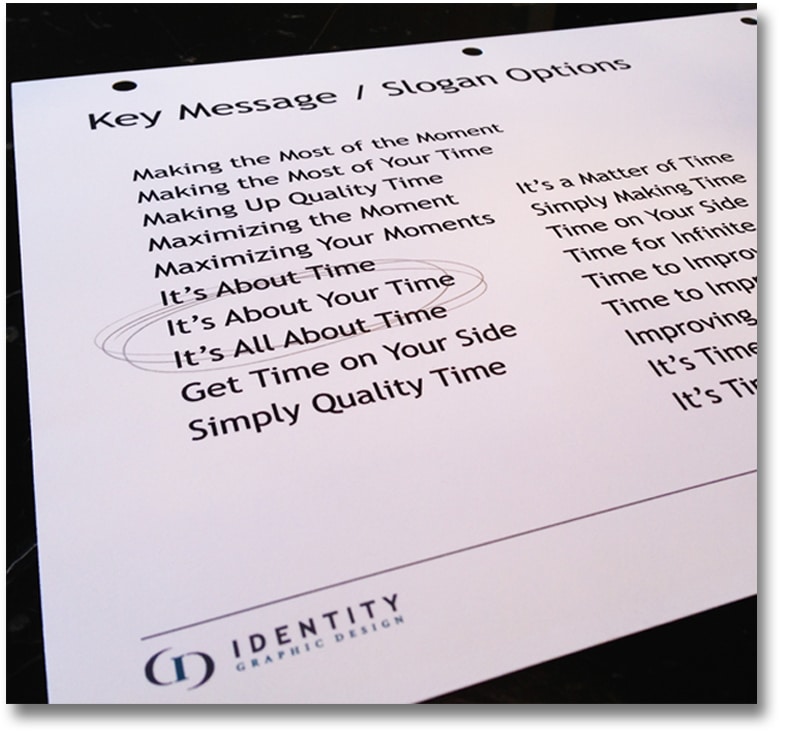 Design Approach
WaitWell required a nurturing look that would be taken seriously with medical professionals. After establishing goals within the healthcare industry, Waitwell has objectives to expand to every area of waiting people experience in the marketplace. The Identity team explored stand-alone symbols, then created distinctive, yet simple wordmarks, with imbedded symbols and colors chosen to help identify the purpose of each product and service. These symbols can be easily representational outside the wordmark to use in company marketing and customer education.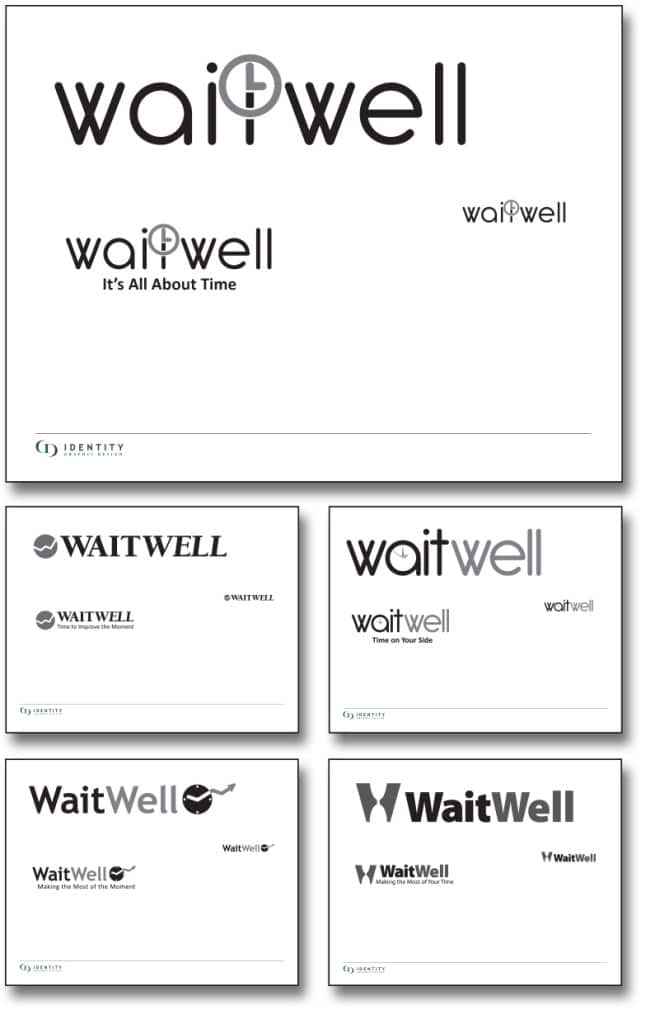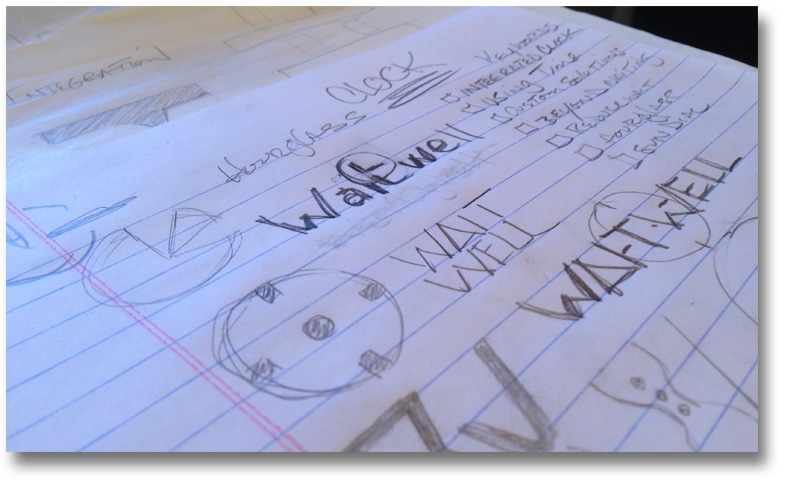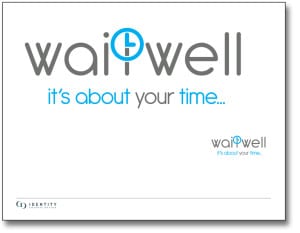 Brand Architecture (Before & After)
Brand Extensions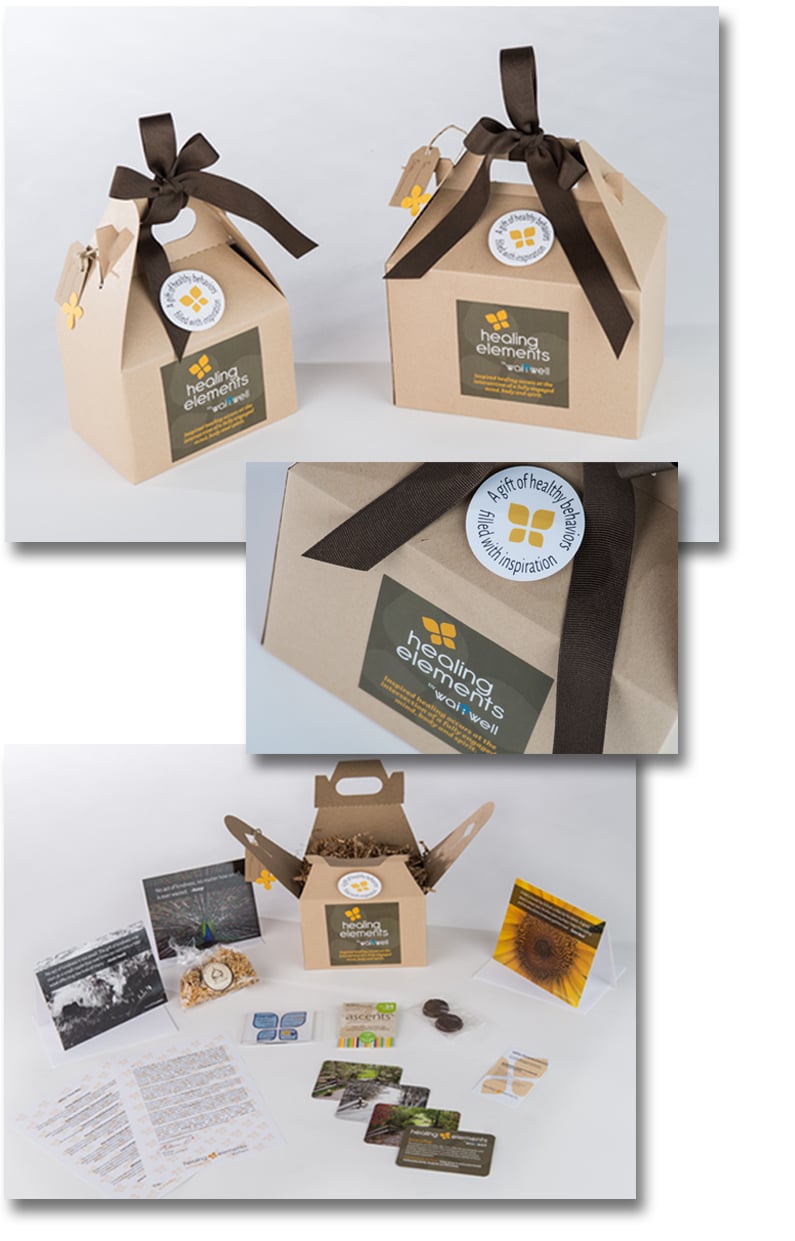 WaitWell will grow through demand. As people become aware that there are alternatives to the long, fruitless waiting room experience, they will begin to request WaitWell innovations from their healthcare providers. Providers can prominently display the WaitWell Certified OfficeTM seal on their websites, office windows and marketing material. By doing so, they will demonstrate a commitment to continuously improve patient experience through organizational change and innovation.
WaitWell provides measurable assessments and strategies to allow medical professionals shorten wait time in offices and improve patient experience throughout the office visit. Ultimately, Waitwell finds opportunity in the waiting experience to create something positive which is both integrated and sustainable.

When a company is passionate about what they do, they look for ways to go further. WaitWell is one of those companies. With a mission to help individuals going through a difficult or stressful health challenge, the concept of something tangible for people to help was born. Healing Elements is a gift box filled with items that inspire healing. The Healing Elements logo and packaging compliment the nurturing and friendly feel of WaitWell, while the representational butterfly speaks to positive transformation. The four elements of the butterfly connect to the four areas of care, body, mind, soul & spirit.
Identity's team is a delight to work with, really listening so that they can captured the feel I was looking for. And the best thing? They aren't suppliers, they are TRUE business partners committed to my business success throughout the process and even after it is complete!"
Karen D. DeCuir DiNicola
Learn more about transforming your wait!