In 1998 Atlas piggy-backed on the GutterHelmet brand name as their own business name, thus limiting expansion into other service areas. Identity helped brand Atlas as a progressive, trustworthy industry leader, offering much more than just gutter protection.
By retaining the Atlas name and creating a unique 'globe-like, A-house' symbol, relevant descriptor and powerful slogan, Atlas became a distinctive and credible brand. The AHI service brands have their own 'Atlas' identifier, but their own brand identity within the Atlas brand architecture.
What's in a Name?
Atlas Home Improvement, LLC is family owned and operated by father-son team, David and Darian Bobby. When Darian obtained a license to sell and install GutterHelmet, (at 23, the youngest dealer in the country), his father, David, a licensed builder, joined on to help.
 They were confident that naming their company with the GutterHelmet name would help them build credibility quickly. It took more than a bit of convincing from Bill at Identity to change the name to Atlas Home Improvement. When a company hangs its brand on that of another, there are potential costly risks.
The Atlas team built its solid reputation on strong company values. In an industry characterized by unreliable contractors and non-warrantied work, Darian's & David's goal from the beginning has been to restore trust to the home remodeling industry—one relationship at a time.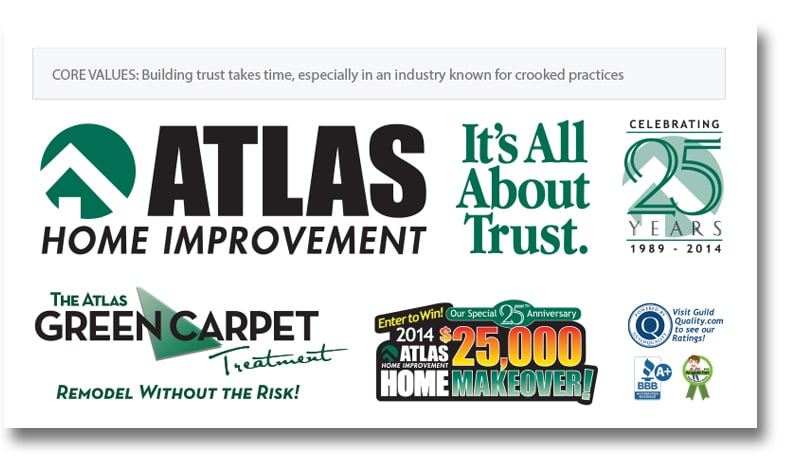 Brand Architecture & Alignment
As a company grows, often new products and services are offered. Customers need to be able to quickly recognize and understand the place of these products & services within the company. Building brand architecture over time creates challenges for the brand in maintaining consistency, distinctiveness and clarity.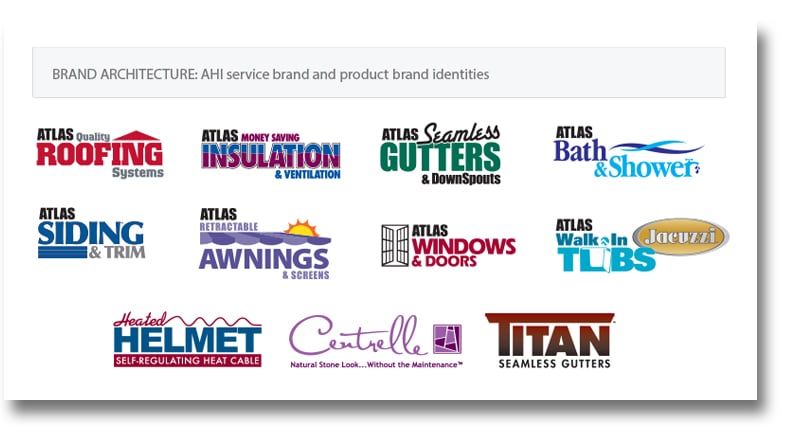 Keeping your brand marketing aligned with your purpose and values should be on the front burner of every campaign, just like keeping your brand promise should be considered at every point of operation in your company. In light of the Atlas mission, Identity created the slogan, "It's all about trust." This slogan incapsulates the Atlas mission and stands as a banner to their unwavering ethics and outstanding customer support. (Evidenced by their high ranking status on review sites, including Angie's List, BBB and Guild Quality.)
Since 2005, Atlas has trusted Identity with its brand architecture, graphic design and creative advertising and direct mail campaigns. Because we know the Atlas mission and values, we have been able to keep those in the forefront of their brand without being preachy (see above image). Over time, with a clear, consistent message that authentically represents Atlas Home Improvement, a recognizable, trusted brand is built.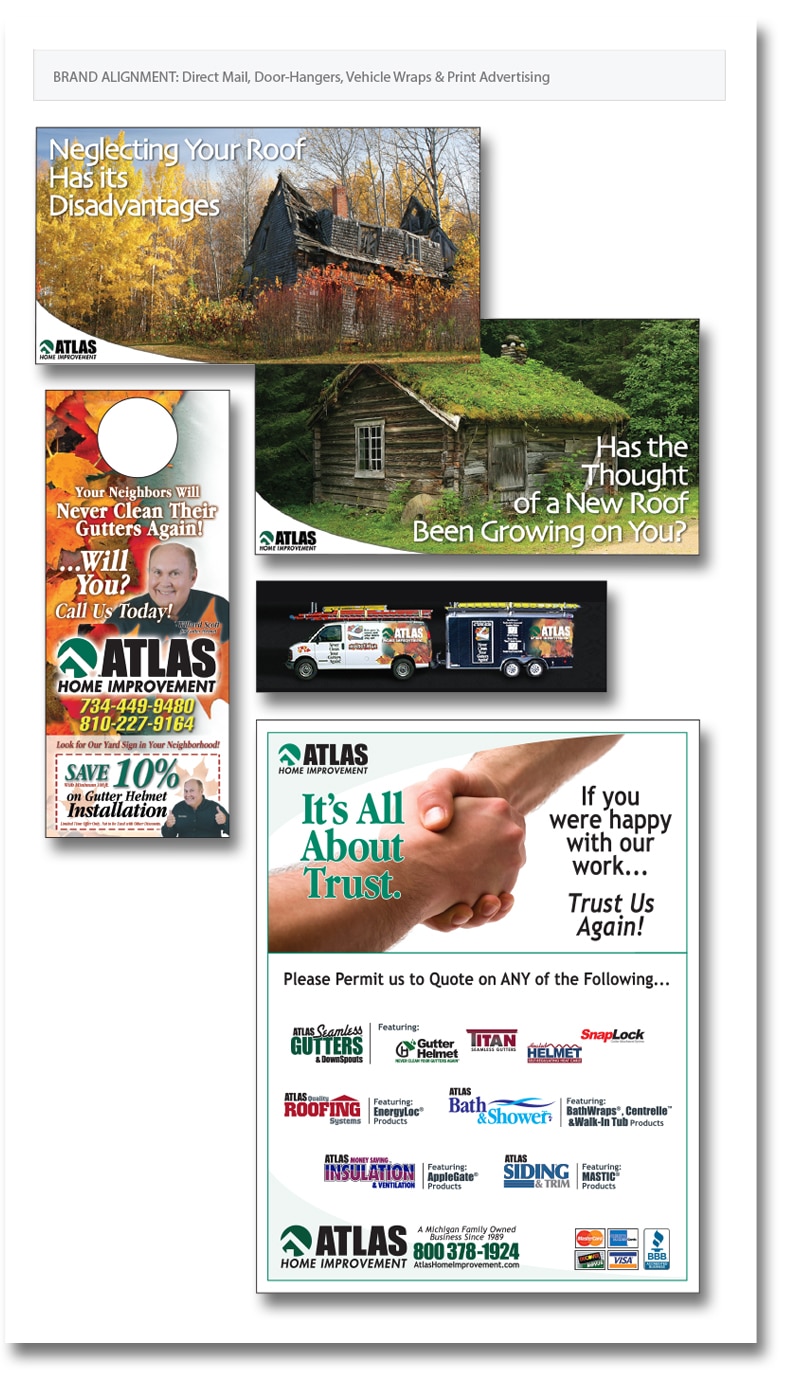 Sticking to the Plan
One of the common requests we would hear from David Bobby "Doc," in the past was that we focus less on the Atlas brand and emphasize the brands they carried. "People know Jacuzzi, they don't know Atlas," he would say. As we worked together through the years on advertising campaigns, trade show promotions, vehicle graphics and anything David & Darian dreamed up, we would come back to Doc with the reply, "People will care about Atlas. You're the one they trust to bring them the highest quality brands."
Today, with over 16,000 customers in the metro Detroit area, Atlas Home Improvement has been steadily building a brand that consistently reinforces its core values in marketing and service.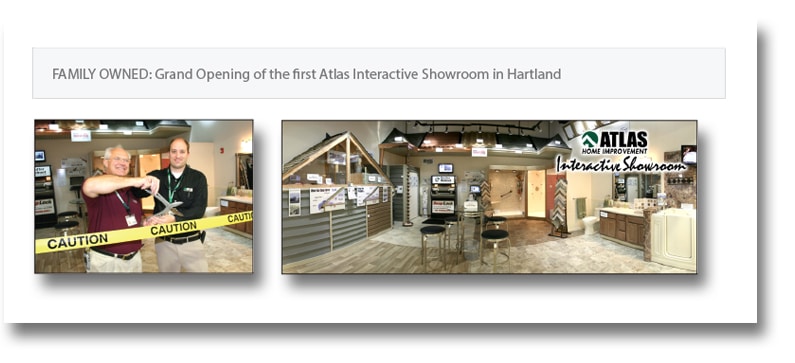 We believe our path to success was established years ago and that our company's consistent branding has been a big part of this.  Thanks to Identity Graphic Design for their persistence in encouraging us to stick to the plan all these years even when we did not always understand the importance of maintaining our brand standard.  We believe Identity Graphic Design would be an asset to any company large or small.
Darian & David Bobby
Learn more about this trusted company!