You decide!
Which business email address gives a
more professional and credible impression?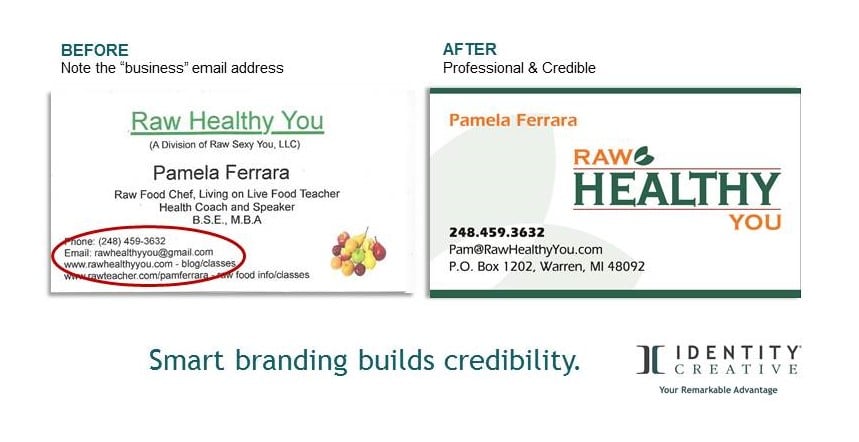 You've seen business cards with email addresses like mybusiness@gmail.com…or yahoo, aol, or hotmail email addresses, yes?
Why is this bad for your brand? Because good branding differentiates your business and builds credibility. Generic email addresses do exactly the opposite. We run into independent business owners who don't recognize the damage they're doing to their credibility with a generic business email.  It's not acceptable, especially when it's SO EASY to have a professional email.
When someone asks us to design a business card and gives us a generic email address, we put our designer-foot down and strongly urge them not to use any-thing-other-than-your-own-custom-URL email address. Sound harsh? Friends who care will tell you the truth. We want you to stand out as a credible business and we're willing to tell you the harsh reality because we care. Your business card is an opportunity to build trust with a credible brand presentation.
Marty Neumeier, in The Brand Gap, makes it clear, "Trust is the greatest shortcut to a buying decision, and the bedrock of modern branding."
It's SO EASY to purchase a custom domain name and set up an email for your business. Do you have a website? If so, contact your web company and ask them to walk you through setting up your custom email. If not, here are three easy steps.
1.  Purchase a do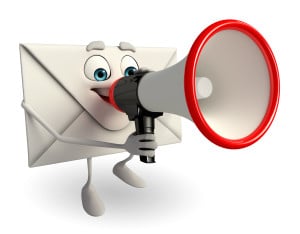 main name (you probably already have one).
2.  Contact the hosting company.
3.  Follow their directions to set up your email account and add to your devices.
It's that easy. Now, you're really in business!